CANDIDATE SUCCESS STORIES
The following are a sampling of testimonials of successful placements.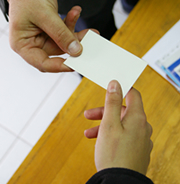 …FoodRecruiting.com was instrumental in matching my skills with one of the world?s largest food and beverage equipment manufacturers. My recruiter facilitated the process and provided the support needed to achieve my employment objective. ?
…FoodRecruiting was by far the most thorough and responsive recruiting firm I have ever dealt with in 20 plus years in the food industry. They were as concerned about me as a candidate and filling my needs as they were in filling the exacting requirements of what is now my new employer. I look forward to the opportunity to recommend their services to colleagues in the industry, and to hopefully use their knowledge and expertise to fill positions for me in the future.
…I was introduced to foodrecruiting.com from a business associate. At the time, I was discreetly looking for a new opportunity. My recruiter was very understanding and worked my interview schedules around my current work/ travel schedules. Unlike other recruiters they kept me up-to-date on the process and answered my calls and emails. It was a wonderfully refreshing experience. I would recommend them as the top food industry recruiting firm.
…I enjoyed a successful placement through FoodRecruiting.com. The client (my subsequent employer) went through many steps and at times it was frustrating. FoodRecruiting.com and David Bryant in particular was very professional and did an outstanding job of representing the Company and me. I recommend this service.